You are here
Back to top
CDL: 1-Hour Course for Dead Broke Drivers to Obtain the Commercial Driver's License Permit. Crazy Tips Demonstrated by a St (Hardcover)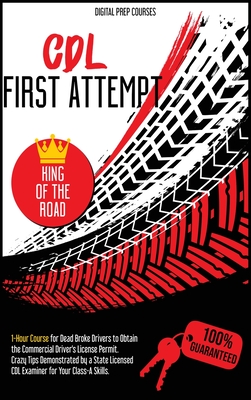 Description
---
① Are you planning to Go for CDL Test?
② Is it your First Time?
③ Which type of CDL Class you should seek for?
If you are searching for answers to questions like these then this is the best guide for you as it has already helped many people in obtaining their CDL in their first attempt.
For Jobs usually, some certificate or degree is necessary similarly people seeking for jobs in the trucking world or industry require a CDL. Moreover, many jobs nowadays require a CDL license. If a driver gets a CDL successfully, it's proof that he/she has completely mastered the requirements like knowledge, skills of operating a commercial vehicle efficiently and safely and also meet the requirement of health. Drivers that have clear the test have proven that they have learned almost everything they require for safely getting behind the commercial vehicle wheel. Overall CDL is a must for jobs related to it as it's the government requirement also. This book will help you in increasing your interest regarding the world of trucking and you would like to appear for the test as soon as possible as this book is going to boost your confidence a lot and CDL license seems very easy after reading this book as it contains almost all the important information regarding it.
In this book, you will get to learn the following things:
✓ All necessary information about the CDL
✓ Types of CDL Classes
✓ Information about the CDL tests
✓ Tips and tricks for CDL tests
✓ Complete Study Guide For CDL Test
✓ CDL Test Experience
✓ FAQs about CDL
All this in one book. Isn't it amazing?
So stop wait and quickly click the buy button and get a copy for you