You are here
Back to top
Barron's MAT: Miller Analogies Test (Paperback)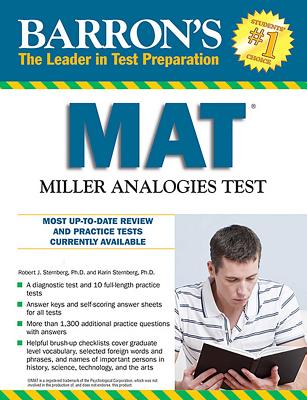 Description
---
This updated manual prepares prospective test takers for success on the MAT, a timed word-association test that is widely used to screen applicants to graduate level academic programs. The MAT is also used as a placement exam for management positions in many businesses. The book's main features include:
A diagnostic test and ten full-length practice exams
Self-scoring answer keys following each test
Approximately 1,300 additional practice questions with answers
Advice to help test takers solve analogy problems
Helpful brush-up check lists cover graduate level vocabulary with brief word definitions, selected foreign words and phrases used in English with their meanings, and names of important persons in history, science, technology, and the arts that test-takers should be able to recognize.
About the Author
---
Karin Sternberg has a PhD in psychology from the University of Heidelberg, Germany, and an MBA with a specialization in banking from the University of Cooperative Education in Karlsruhe, Germany. She has studied at Yale University and did her postdoctoral work in social psychology at the University of Connecticut with John F. Dovidio. Sternberg worked as a research associate at Harvard University's Kennedy School of Government and School of Public Health. In 2008 she founded Sternberg Consulting with her husband, Robert J. Sternberg. The company focuses on practical applications of Robert Sternberg's theories of intelligence, wisdom, creativity, and leadership, among others, and has consulted for various industries, businesses, and not-for-profit organizations and developed products based on these theories.